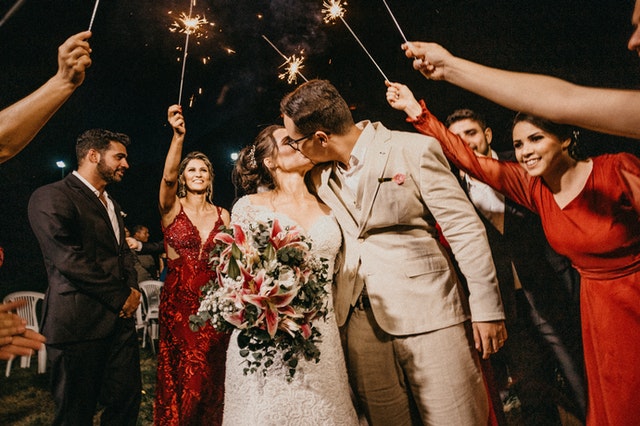 The bride and the groom, and even the close relatives do know the stress and issue involved in a wedding preparation. That would explain why people today believe and opt for the small or intimate weddings. However, the intimate weddings come with a cost. You do not stand a chance to take your vows in front of all your loved ones. Have you ever given a thought to find how to include the guests who are physically absent a part of your wedding?
Live streaming your wedding ceremony
In today's world that is technology driven, it can be quite easy and simple to live stream you're wedding so that all your beloved people, loving family members and everyone else can witness. They can comfortably watch you taking your vows from the comforts of their home. That can be one of the best, easiest and cost-effective mean of including the absent guests in a wedding.
Arrange an engagement party
Throwing an engagement party can be yet another great option for including the absent guests. If you have the friends and others who cannot attend the wedding, you can throw an engagement party for a select few among them. This party can either be arranged at your home or at the pub of your choice.
Plan a bridal shower
A bridal shower is yet another great option that can be helpful in including the absent guests. It can be one of the best pre wedding celebrations. You can host one such event and make the guest from both the sides witness it. It can be a great option to look forward to your big day. It can be helpful in involving the absent guests right away.
Take a huge number of photos
You have not planned a traditional wedding and not inviting a huge group to the wedding. That means you do not have the professional photographers as well. But you can have a small-scale wedding photographer who can help you take a good number of photos. You can then share the photos with the absent guests so that they can be a part of the entire wedding celebration.
Create a special wedding hashtag
This is yet another tech driven means of making your absent guests a part of your wedding. Creating a special wedding hashtag and asking all the guests present at the wedding to share the images and videos of the wedding using the hashtag. You can even include you on uploads. Sharing the hashtag with your absent guests a day before the actual wedding can prove to be a great way of including them in your wedding and the celebration thereof.
And yes, make sure that your wedding is quite a successful one even if it is intimate. You can make it all the more interesting by having the right wedding transportation arrangement. Services such as Oakville limo service should help you get access to a truly wonderful experience ever. Get access to one of the promising wedding or an intimate wedding with the right type of the transportation.
News.InsightInteractive.ca was not involved in the creation of this content. Information contained on this page is provided by an independent third-party content provider. News.InsightInteractive.ca makes no warranties or representations in connection therewith.