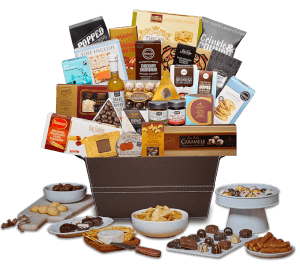 Nutcracker Sweets has been providing a chance to showcase your love with timeless and unique gifts for 35 years and more. Throughout the past decades, the priority behind Nutcracker Sweets has always been to put the needs of the customer first. Now, we're giving you the chance to celebrate your newest and most recent events with gifts that are specially designed. For birthdays, anniversaries, weddings and more, the possibilities are endless.
Whether you want a sophisticated and modern gift basket, or one that is elegant and classical, Nutcracker Sweets knows how to fulfill your needs in every shape and form. Each gift basket has the opportunity to be personalized, from color to theme to design, ensuring that every customer has the chance to see their imagination come to life in the form of an incredible gift.
Gold Standard
This elegant and stunning gift basket from Nutcracker Sweets is the natural standard of treatment for customers. This basket is in black with a gold boundary, an enhancement to the sophistication of this gift. This basket is loaded with sweets, cookies, chocolate and many other gourmet items that will definitely leave the receiver satisfied. The golden embroidery on the black basket is an unforgettable design that will leave your loved one's thinking of your generosity for ages to come.
This basket contains Godiva dark chocolate, Strawberry G cube, Lindt Swiss luxury selection, Box of Chocolates, Lindt mini pralines, Whittakers almond gold bar, Matcha tea-infused dark, Chocolate Toffee Almonds, Cookie it up dark chocolate, Oatmeal cookies, Rosenborg brie cheese, Chocolate wafers and Butter toffee peanuts.
Gold Standard Deluxe
Like the Gold Standard gift basket, this gift is designed in a metallic black and gold color that is sure to amaze. Perfect for any event, this basket contains all of the items within the Gold Standard basket, but with the special and select addition of Tuscan crackers, wild blueberry jam, Cranberry Port and Pecan compote, and Rogers's sea salt caramels.
The Royalton
The Royalton is an intricately designed, entirely golden basket. The chocolate and candies within are all set to give a shining look to your gift, so enjoy this taste of royalty with Nutcracker Sweets. The luxurious basket contains Godiva dark chocolate vanilla, Ganache G cube triangle, Lindt excellence dark chocolate, Orange bar, Lindt Swiss luxury selection, Ferrero collection gift box, Rogers' chocolate classic sampler, Raincoast cranberry and Hazlehurst crackers, Popped Chicago style cheese and caramel popcorn mix, Cookie it up ginger cookies, Cheddar cheese biscuits, Chocolate wafers and Vineyard herb gourmet cracker.
Goodies Galore
This beautiful gift basket with an arrangement of sweets and treats is available for only $50. A known bestseller, due to its low price and high quality items, this basket contains goodies such as biscuits, chocolates, sweets, toffees and many more.
The Arlington
This rustic dark wooden basket consists of the most tasteful gourmet items and sweets. An alluring gift for any event, the design is guaranteed to impress with its purposeful dark-hued theme. The goodies can be altered and customized as per customer choice, without charging any extra amount. This Nutcracker Sweets basket is valuable in every way.
Champ- Elysees
With a sepia-brown color and a timelessly aged look, this gift basket is not only vintage but loaded with an assortment of Lindt items, such as chocolates, cookies, and so much more. An impressive gift for friend, family, clients and colleagues, this gift basket is beautiful and guaranteed to satisfy.
Toulouse
This uniquely colored basket with an oval shape has always been a popular customer choice. The classic and timeless basket contains Godiva dark chocolate, Lindt chocolate, camembert cheese, crisps, pepper, jelly and much more. This beautiful bestseller gift only costs $100.
Toulouse Deluxe
A perfect and original basket, the Toulouse Deluxe is filled with items sharp with flavor. As the most attractive customized gift basket, this blue basket boasts a delicate design including crisps, chocolates, biscuits and candies in it.
In Good Company
A black and white basket lends a classical look to this extraordinary present. With chocolates, sweets and treats, this basket will definitely surprise anyone who receives. As the right choice for any event, this basket will inspire long-lasting bonds between you and your loved ones.
Sweet Feast
With a silver and copper theme, this basket encourages memories of old times. Because sweets cater to happiness, Nutcracker Sweets is proud to present this basket as a symbol of vintage remembrance and pure generosity. This basket is perfect for any celebration and any moment, and will no doubt leave everybody happy.
News.InsightInteractive.ca was not involved in the creation of this content. Information contained on this page is provided by an independent third-party content provider. News.InsightInteractive.ca makes no warranties or representations in connection therewith.