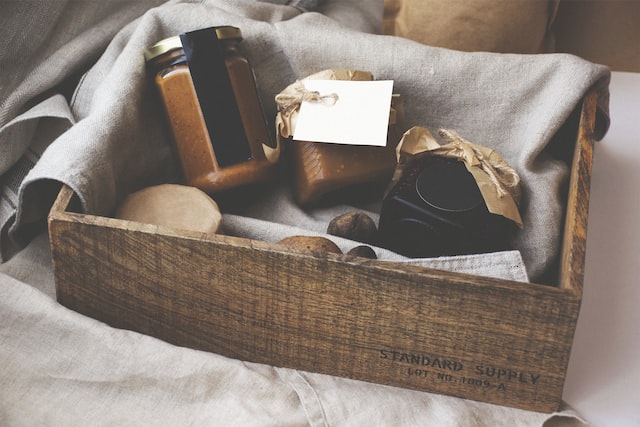 Finding a present for the guys in your life can be challenging, especially when you take into account all the possibilities available. Even when a birthday, special day, or anniversary is approaching, it might be overwhelming. You've come to the perfect place if you're feeling under pressure because men are notoriously difficult to buy for. We've put up a list of the top gift baskets ideas for you, whether you need a gift for your father, sibling, friend, or spouse. You can choose your favorite goods and put them together in a gift basket that will never be forgotten because you know the men in your life best.
Weighted Blanket
As you age, getting a good night's sleep becomes more and more challenging, therefore the man in your life could value a good weighted blanket. It feels like a hug, warm and cuddly, and will enhance his quality of sleep. He will always be appreciative! Sleep is such an important aspect of our lives, so why not improve it with a sweet gesture such as this? Weighted blankets are known to boost the quality of your nighttime rest, so it's definitely worth a shot.
Whiskey Glasses
If your boyfriend enjoys alcoholic drinks, such as whiskey, he will undoubtedly like whiskey glasses. His interest will be piqued by this amusing and special gift. These are a simple yet thoughtful addition to your gift basket that you can both appreciate.
Jacket
Anybody can appreciate a good jacket, especially with winter right around the corner. The man in your life will remember you every time he wears the jacket you included in your gift basket. He will adore it for years if you can find one that keeps him warm, dry, and comfortable. Jackets are a staple in every closet, so it's impossible to go wrong!
Temperature Control Mug
The ideal gift for a man who enjoys coffee is a temperature-controlled cup. This mug will keep your hot beverage warm and fresh for those hectic mornings when you might otherwise forget. It is certain he will appreciate the subtlety of this gesture. Everyone knows that when it comes to relationships, it's the little things that matter, and this little thing is bound to make him smile.
Alarm Clock
It's a terrific idea to use a smart alarm clock to help you get to sleep without being disturbed by your phone. This alarm clock, which includes a noisemaker, music and podcasts, a soft glow, and a blackout mode, will undoubtedly enhance the quality of your man's sleep and leave him feeling rested each morning. Everyone feels better when they've had a good night's rest, so improve the quality of your loved one's mood and your relationship too will improve.
Self-Cleaning Water Bottle
This is the ideal addition to your gift basket if you know a guy who enjoys working out or simply values regular hydration. With a self-cleaning water bottle, you may drink pure water without having to go through the laborious process of washing and soaping down your bottle. Water is essential to every human being, so without a doubt, this gift will be treasured.
Cologne
This present is timeless! You can be sure that the men in your life will enjoy a good cologne. Your man may revel in his masculinity and savor his favorite scents with sandalwood, whiskey, tobacco, patchouli, and rosewood. A decent cologne can make your man feel better about his appearance and boost his self-esteem, just like how dressing correctly can boost your confidence. Additionally, the fragrance will bring back happy memories of the gift basket, guaranteeing that the cologne is associated with joy and affection. The men in your life will undoubtedly appreciate this classy and appealing present. Plus, as an extra bonus, you get to enjoy his new scent and bask in the fragrance of his cologne. This gift is beneficial to both you and your loved one!